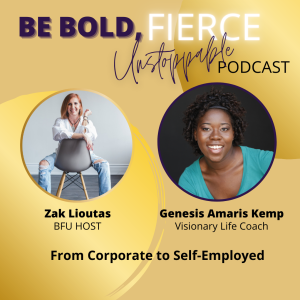 Tuesday May 03, 2022
Ep #75 How to Change your Mindset from Corporate to Self-Employed with Genesis
When faced with a work lay off because of covid, Genesis found herself going through her grieving process as she put together a plan to work to her advantage.
Genesis took a lot of time to self reflect on what she wanted and how to wanted to create impact to the world with her skills , knowledge and gifts.

She checked on boxes that made sense to her and went for it,  once she finished writing her book, Genesis had doors flying open for her with offers to be on shows and magazine.

From the oil and gas industry to self-employed and loving every minute of it.
Genesis leaves us with so many nuggets to get out of the rid, deal with our fears and move forward with clarity and knowingness, that when you humble yourself, you expand yourself.
Take a listen and share with those that you believe can use these words of encouragement. 
About the Host, Zak Lioutas
Work with Zak 1-1 or in a Group https://zaklioutas.as.me/meeting
www.zaklioutas.com www.zaklioutas.com 
Connect with Zak on her Socials
Join @beboldfierceunstoppable Facebook Group
Join her on Instagram
Instagram
Facebook / Meta
Twitter
YouTube
Website
Genesis's Book Chocolate Drop
Paperback
Kindle
Comments
(0)
To leave or reply to comments, please download free Podbean or