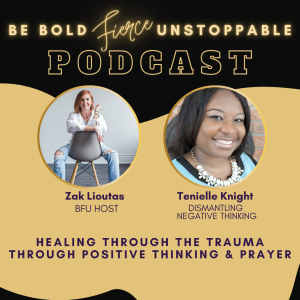 Monday Apr 04, 2022
Ep #70 The Power of God and Prayer during Difficult times with Tenielle
What a way to end season one of Be Bold, Fierce, Unstoppable.
Episode #70 speaking about the Power of God and Prayer with Tenielle Knight.
This podcast is full of hope, faith, belief and miracles. 
Tanielle speaks to us about her dark moments and how she pushed through with prayer and forgiveness. Trying to take her own life, and knowing that God saved her from a bullet.
Tenielle brings us back to how she found through her darkness the power and strength within her was encouraging enough to bring her a sense of confidence.
Her story is the light for someone experiencing dark moments in their life and how getting on your knees and praying can save the day as it saved her from a feeling she was able to escape.
We close this podcast off with a Powerful Prayer to bring light to those going through depression, trauma, suffering, this prayer was so powerful I felt it in my whole being.
This podcast is encouraging for anyone going through difficult moments in their life.
Take a listen and share with your network. 
About the Host, Zak Lioutas
Work with Zak 1-1 or in a Group Setting  www.zaklioutas.com 
Connect with Zak on her Socials
Join @beboldfierceunstoppable Facebook Group
Join @spiritualhstler Instagram
About the Guest, Beate Chelette
Comments
(0)
To leave or reply to comments, please download free Podbean or