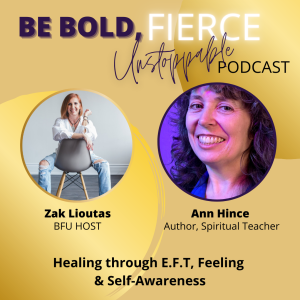 Tuesday Jul 26, 2022
Ep#81 Healing through E.F.T, Feeling and Self-Awareness with Ann Hince
Ann discusses how she has gone from using E.F.T to bringing awareness and being in her body as she brings healing to energies that were/are stuck from within.
Discovering parts of herself through E.F.T, Ann has had the opportunity to heal through emotions that were stored within her body for 20yrs. 

Finding her mom on the bathroom floor dead, Ann held guilt that she didn't hear her walk past her room.
Being also adopted and other childhood traumas where deeply stored throughout her body. 
Learning how to use E.F.T to dissolve stories from her body, mind and spirit from her past, Ann found liberation and pleasure in going into different areas in her life to bring more alignment to her body. 
After E.F.T she mastered the art of Feeling that lead her to more Self-  Discoveries. 
As she kept on opening herself up to new modalities and healing Ann now is able to bring her awareness into her body and heal right from within her bones.
To gain this awareness is remarkable.
Take a listen and see how Ann has done it and pass on to others.
About the Host, Zak Lioutas
Work with Zak 1-1 or in a Group https://zaklioutas.as.me/meeting
www.zaklioutas.com www.zaklioutas.com 
Connect with Zak on her Socials
Join @beboldfierceunstoppable Facebook Group
Join her on Instagram
About the Guest, Ann Hince
Comments
(0)
To leave or reply to comments, please download free Podbean or